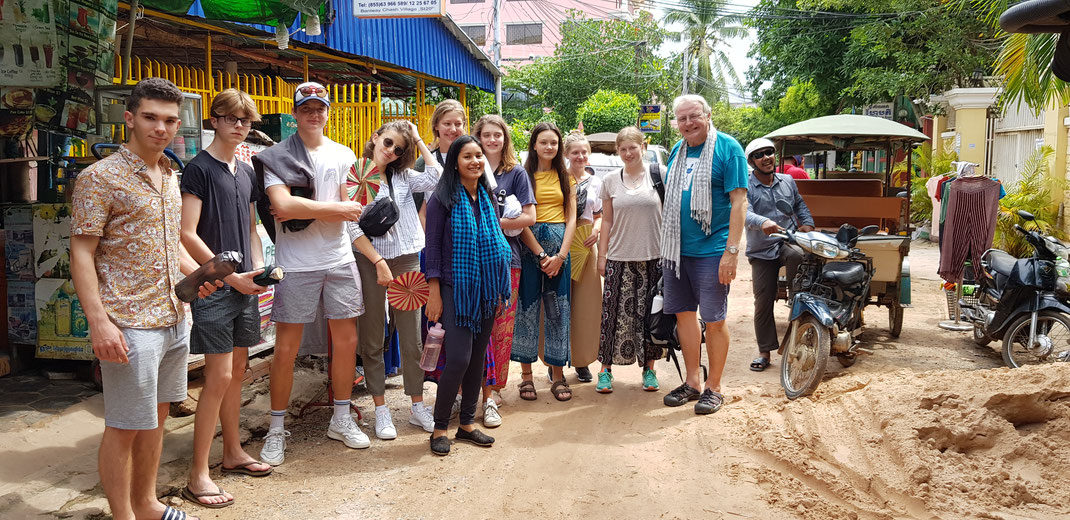 On Day five: Feel at home in Babel Guesthouse.
Big smiles on everybody's face. Babel is a cell of well-being and energizing.  Does the comfort-zone, some of us missed, the first days, although exit in Cambodia? Yes, in Babel Katrine and Simen made their dream come true. Everybody and nature cares. Babel stimulates and rouses creativity. Best oasis for retreat and reflection on how I perceive Cambodia. Since April 2018, when were here with our last team, Siem Reap turned into a hotspot for eco-friendly warriors. The pressure on them with 4,6 mio only plastic bottles a month is shocking. We are going to investigate on it, because we want to see how a developing country like Cambodia deals with it and whether we can find synergies.
Katrine gave us an impressive presentation on plastic and showed us her eco-friendly store that offers everything you need for an eco-friendly household. She is on so many things to reduce everybodies footprint. She also fosters education as the basis for participation and understanding. All the Babel stuff and the Tuk-Tuk drivers attend the Babel educational programm.
It is always a great delight to network and share experience with each other. Thanks to Babel we now work on a no-plastic workshop for the UWS schools.
www.babelsiemreap.com/