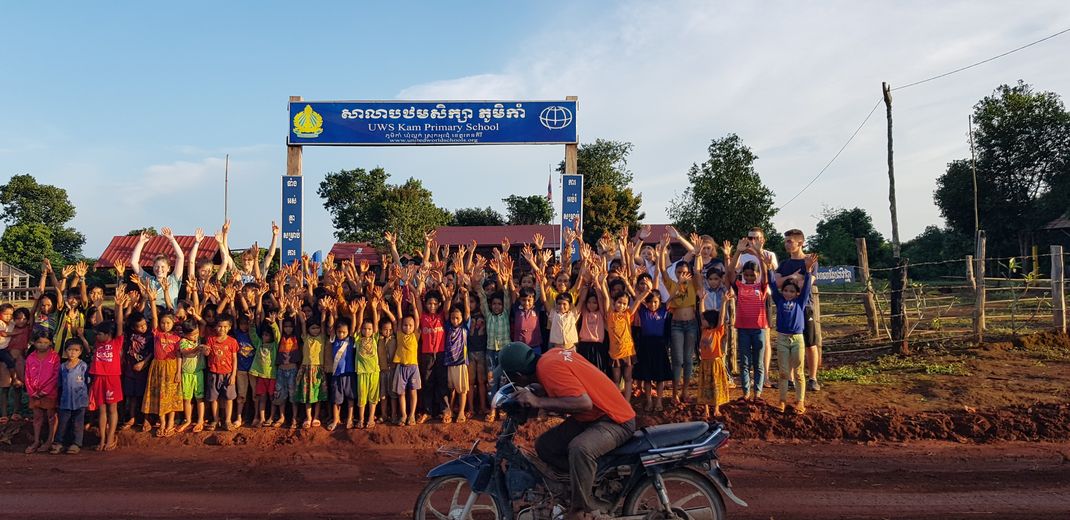 "Kham", 1000 inhabitants, Kreung Tribe, all ricefamers as subsisting farming, believe in spirits; the whole team: 12 participants from ConCultures, 8 UWS-Staff Members; 4 Pick-Ups, two motorbikes; distances: 8 km from Banlung; 40 minutes drive one way; loading: 12 small backpacks with minimize clothes; maximum food and water supply provided by UWS; 5 huge workshop boxes with teaching material;  individual stock of cookies and chips, chocolate.
Our daily programm "School is Cool":
6am: Wake-up
6.30am: breakfast (toast with fried egg; peanut butter, jam, asian Nutella)
7am: morning sports with the children
7.30am to 10.30am: 4x45minutes classes for about 90 students age 4 to 13.
10.30am until 2.30pm: break
2.30pm: storytelling in Khmer
3pm: theatre
3.30pm to 5pm: skills and music
5pm: outdoor bath (tup with water)
6pm: dinner; free time: preparations for the next days; chatting, chilling, card games; early hammock-time.