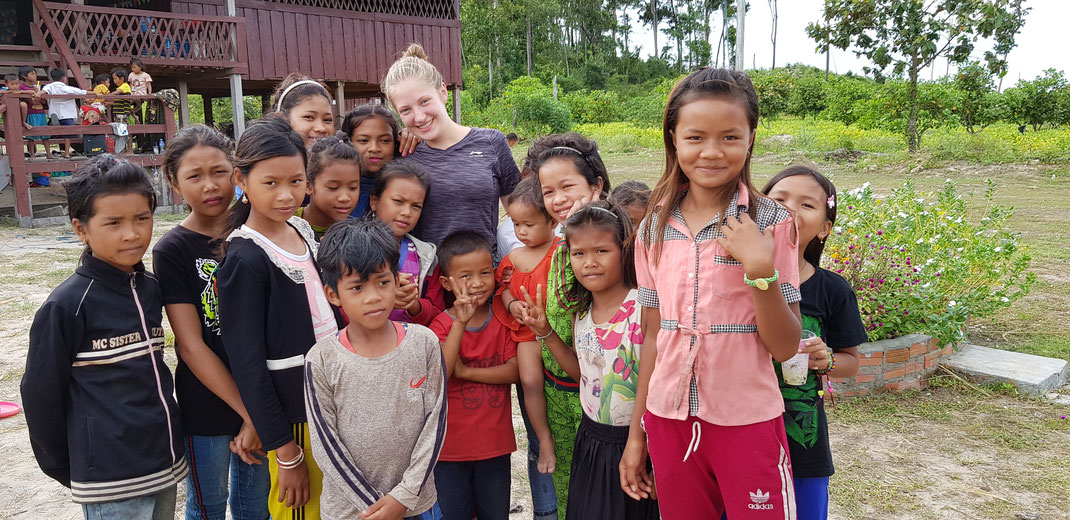 The Phum Thmey school is beautifully located amongst vast plantage and fields of cashew and soya. Rainforest used to be here. It is such an awesome view that you forget how much this region is being harmed by illegal logging. 40 percent of the rainforest vanished in the recent years, and we can witness the impact firsthand. The UWS villages got a lot more flooded this year and were not accessible throughout the recently ended monsoon season.
People moved to the Phum Thmey village from various cultural backgrounds: khmer people, indigenous tribes and Cham people with islamic background.
The school shares the compound where it is located with five monks staying in a small Pagoda. A pagoda is a location where people gather to worship Buddha. They offer food to the monks as representatives of Buddha.
We are the first foreigners staying with them. Much to our surprise they are more open smiling at us when we arrive than we initially expected.
Maybe it is also because of us being more relaxed, because we are more experienced? Did Leakhenas story leave an impact on all of us?  "Open up, then you get most out of it!", was a volunteer's advice from last year.
Many families were harvesting soya while we were staying in the village. We missed so many children in school, because they were helping on the fields. We decided to meet with them and their parents and assisted them in the heat.