Everyone noticed that in our second school we are less nervous, more relaxed and definetely more experienced. The students of Phum Thmey addressed us more openly, the ideas of workshops are more creative. The appeal of music is more enthusiastic. This creates a mutual beneficial and enjoyable interaction for everyone. Just like the first time we also felt passionate and passion ist the key to creativity and enthusiasm. It  creates success and leaves an impact. We feel connected.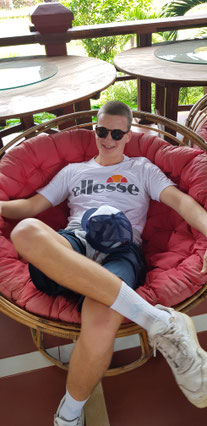 What about the impact on the volunteers? How do the volunteers reflect on it?
Anton (17): "I am still flattered by the enormous joy and great pleasure the kids had although they've lived in such difficult conditions and bad circumstances. It was amazing to have the chance to help the kids. There is nothing better in the world rather than doing such little work with such huge impact. I guess just our presence in the villages helped the kids in so many different ways. They look up to us. This year we started to teach about the consequences of plastic pollution not just to the kids but to the whole village . It made me so happy to see that kids followed our example and stared picking up plastic from their own village and brought their own refill bottles to school to avoid plastic bottles. It was so much fun spending time with the children and seeing their happiness when they learned something new. I can still remember that!
ConCultures connects people with similar goals to increase the impact and assure sustainability. We are extremely grateful to have met United World Schools in 2011. We have hardly ever seen an organization who have carried out their mission with hundred percent performance as with the UWS-Programme "Teach The Unreached". All their 189 schools for more than 30.5000 students in Cambodia, Myanmar and Nepal are operating in full accordance to a holistic tuition plan of high quality following eight UN sustainable developing goals. UWS is WiseAward Winner 2019. UWS is passionate about transforming lives through education. In the same way UWS and ConCultures are determined to offer volunteers a life-changing experience.